Bosch Automotive Aftermarket to exhibit ADAS Calibration and Secure Diagnostics at Automechanika Birmingham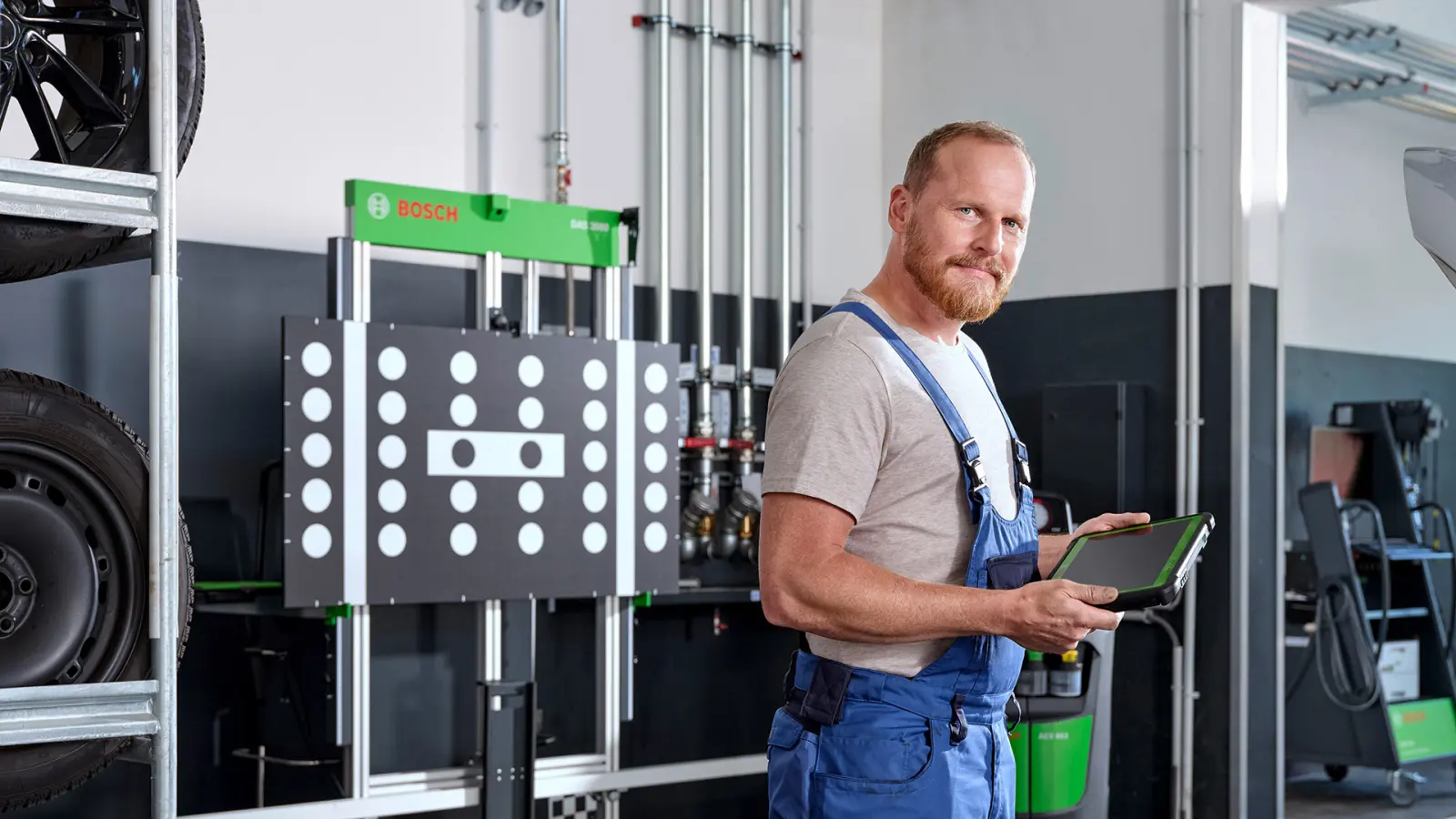 Bosch will display its latest workshop technology and equipment
Bosch ADAS Calibration and Secure Diagnostic Access will be demonstrated
Automechanika Birmingham runs from June 6th to 8th at Birmingham's National Exhibition Centre
Denham – Bosch's Automotive Aftermarket division will be present at the Automechanika Birmingham event from June 6th to 8th. Bosch Automotive Aftermarket will be in Hall 19 on stand Q102 at Birmingham's NEC.

Throughout the exhibition days, Bosch will showcase its parts and diagnostic equipment, and will demonstrate ADAS calibration tools. In recognition of the increasing prevalence of ADAS fitment to vehicles coming into independent workshops, Bosch is once again devoting a large part of its stand to ADAS demonstrations and discussions. With the latest developments for the established Bosch DAS 3000 platform on show, together with subject matter experts on hand to provide demonstrations and answer questions, Bosch aims to provide an interesting and informative experience to show visitors.

Visitors can learn about Bosch's Secure Diagnostic Access (SDA) solution, and how it affects service, repair and diagnostics on vehicles. Bosch SDA is a single access point for secure and authorised diagnostics with no extra charges to workshops if they have an ESI[tronic] subscription.

Some of the event highlights include Bosch's speaking slots at the EV and workshop hubs:
EV/Hybrid training: With the ever-increasing popularity of hybrid and electric vehicles, now is a perfect time to prepare workshop businesses to undertake servicing and diagnostic work on all makes and models. With the correct training and development, technicians will be able to carry out work on these vehicles safely and efficiently.
Diagnostics: Increasing vehicle complexity and mobility user service expectations are significant challenges for the automotive aftermarket. Bosch has a range of solutions to support workshops to close the gap between current capabilities and future service needs.

In addition, visitors can sign up to Bosch's workshop loyalty programme, eXtra. They can also redeem rewards on qualifying Bosch Automotive purchases.

The Bosch Car Service team will be present to give an insight into one of the largest garage networks worldwide. Over the past 100 years Bosch Car Service has been at the forefront of developing an all-round garage concept that delivers high quality parts, diagnostic tools, and vehicle services for all makes and models while still supporting its garage partners with the experience and expertise they need to future-proof their business.

This year Bosch is celebrating 125 years since it began operating in the United Kingdom. The founder of the company, Robert Bosch, established a business in the UK in 1898 and it was the first country he took his company to after establishing it in Stuttgart, Germany.
For more information about Bosch Automotive Aftermarket in the UK and Ireland, visit: https://www.boschaftermarket.com/gb/en

For more information about Bosch UK's 125th anniversary, please visit: https://www.bosch.co.uk/news-and-stories/news/bosch-uk-celebrates-landmark-125th-anniversary/

Automechanika Birmingham runs from June 6th to the 8th and free tickets can be booked at https://automechanika-birmingham.uk.messefrankfurt.com/
Contact person for press enquiries:
James Bolton: +44 1895 87-8049
James.Bolton@uk.bosch.com
LinkedIn: @Bosch UK
The Bosch Group is a leading global supplier of technology and services. It employs roughly 420,000 associates worldwide (as of December 31, 2022). According to preliminary figures, the company generated sales of 88.4 billion euros in 2022. Its operations are divided into four business sectors: Mobility Solutions, Industrial Technology, Consumer Goods, and Energy and Building Technology. As a leading IoT provider, Bosch offers innovative solutions for smart homes, Industry 4.0, and connected mobility. Bosch is pursuing a vision of mobility that is sustainable, safe, and exciting. It uses its expertise in sensor technology, software, and services, as well as its own IoT cloud, to offer its customers connected, cross-domain solutions from a single source. The Bosch Group's strategic objective is to facilitate connected living with products and solutions that either contain artificial intelligence (AI) or have been developed or manufactured with its help. Bosch improves quality of life worldwide with products and services that are innovative and spark enthusiasm. In short, Bosch creates technology that is "Invented for life." The Bosch Group comprises Robert Bosch GmbH and its roughly 440 subsidiary and regional companies in some 60 countries. Including sales and service partners, Bosch's global manufacturing, engineering, and sales network covers nearly every country in the world. With its more than 400 locations worldwide, the Bosch Group has been carbon neutral since the first quarter of 2020. The basis for the company's future growth is its innovative strength. At 128 locations across the globe, Bosch employs some 85,000 associates in research and development, of which nearly 44,000 are software engineers.

The company was set up in Stuttgart in 1886 by Robert Bosch (1861–1942) as "Workshop for Precision Mechanics and Electrical Engineering." The special ownership structure of Robert Bosch GmbH guarantees the entrepreneurial freedom of the Bosch Group, making it possible for the company to plan over the long term and to undertake significant upfront investments in the safeguarding of its future. Ninety-four percent of the share capital of Robert Bosch GmbH is held by Robert Bosch Stiftung GmbH, a charitable foundation. The remaining shares are held by Robert Bosch GmbH and by a corporation owned by the Bosch family. The majority of voting rights are held by Robert Bosch Industrietreuhand KG, an industrial trust. The entrepreneurial ownership functions are carried out by the trust.

Additional information is available online at www.bosch.com, www.iot.bosch.com, www.bosch-press.com, www.twitter.com/BoschPresse.